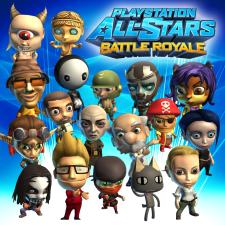 A Minion is, among other things, a small, cartoony version of a supporting character in a video game series with a cartoonishly enlarged head (also referred to as "super-deformed" or a "chibi"). Other "minions" can be seen shown in stages in the background, or as part of other characters' Supers (i.e. Kuma appears in Heihachi's Level 2 Super). They have been described as "cheerleaders for your characters".
A Minion is unlocked upon reaching Rank 8 with a character. Additional Minions are also available through Patch Updates and DLC. Examples of these include Tag from ModNation Racers (available via Patch 1.08) and Hades from God of War (Available via DLC as of Patch 1.08). DLC Minions can only be unlocked via purchase in the game's online Store, whereas Patch Minions will be unlocked via reaching rank 80 with a certain amount of characters. They appear during a player's intro and outro, dancing around in the background.
They will also appear when the player has earned a Double or Triple-Kill in a match, jumping for joy with fireworks to show their support.
Unlockable Minions
Edit
DLC Minions
Edit